This Saturday, November 29th is Small Business Saturday!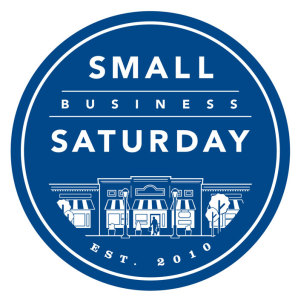 The vast majority of our members are small businesses.  As such, this new American tradition—following hot on the heels of Black Friday that seems to be a big box storapalooza—Small Business Saturday is an important calendar landmark for our member retailers.
We've put together the following alphabetical list of promotions that we know our members are running this Saturday. We encourage you to take part in the festivities and patronize as many as you can!
Charcoal Guido's on Moody Street:
Spend more than $100 and pay with AMEX and Charcoal Guido's will match AMEX's $10 credit with a $10 Charcoal Guido's Gift Card for future use.
Check out Charcoal Guido's online!
Cur.io Vintage at 379 Moody Street:
Cur.io Vintage will be kicking off its Holiday Sale on Small Business Saturday.
On 11/29 only, they're offering a buy one/get one at 50% off promotion, plus a free vintage necktie or scarf (the customer's choice) with any purchase over $20. They'll also be kicking off their holiday gift card raffle; entry comes with any purchase over $20.
Their Holiday Sale will be the first two weeks in December, and will be a 20% off store-wide discount. The gift card raffle (for one $25 and one $50 gift card) will continue through 12/13 and the winners will be announced on 12/14.
Gourmet Pottery at 365 Moody Street
They're going to let customers pick a number from a Santa hat and that number will be their discount: 10% – 25%!
More Than Words at 376 Moody Street
They're offering the following three promotions:
$5 Bah-humbug book bundles!
Gift Certificate Deals!
25-cent pre-wrapped mystery books!
Raj Collections on Moody Street
They will be offering 30-50% discounts on clothing and jewelry.
Check out Raj Collections on Facebook!
Ramble Market on Green Street
On Small Business Saturday Ramble Market is going to be drawing winners for their Grand Opening raffle that they have had going since Oct. 18th.  They will also be offering 10% off anything in the store to anyone who mentions Local First! Anyone can still enter to win the raffle by signing up for their email list anytime between now and Small Business Saturday. The prizes are $500, $250, and $100 gift certificates.
We encourage you to check back later in the week to see if other Waltham Local First Members have any special promotions running on Small Business Saturday 2014!